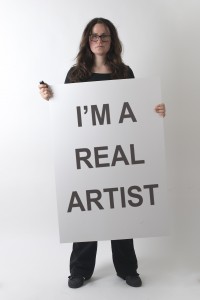 Susi Krautgartner, #41 of 109 self-portrait after Keith Arnatt David and Michael Clarke and Demetra Kallitsi and Spy, 2015.
After: Keith Arnatt, Trouser – word piece, 1972.
After: David Michael Clarke, Trouser word piece [after Keith Arnatt], 2001.
After: Demetra Kallitsi, I'll never be a real artist, 2011.
After: Spy, I'M NOT A REAL ARTIST, 2014.