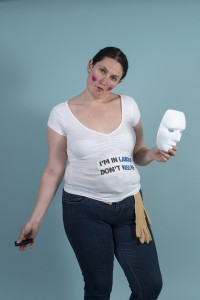 Susi Krautgartner, #108 of 109 self-portrait after Claude Cahun and Andrea Kleine and Martin Chartrand and Gillian Wearing, 2015.
After: Claude Cahun, Self Portrait (as weight-trainer), c. 1927.
Andrea Kleine, Claude Cahun T-Shirt, 2002.
Martin Chartrand, Dylan as Claude Cahun, 2011.
Gillian Wearing, Me as Cahun Holding a Mask of My Face, 2012.