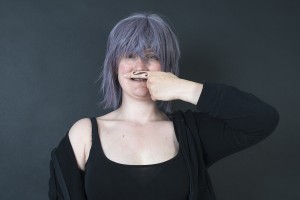 Susi Krautgartner, #97 of 109 self-portrait after Man Ray and Rob Wynne and Wang Qingsong and Zenita Komad and Olaf Breuning, 2015.
After: Man Ray, Le violon d'Ingres, 1924.
After: Rob Wynne, Meissen violin, 2003.
After: Wang Qingsong, Dormitory, 2005.
After: Zenita Komad, Womanray, 2009.
After: Olaf Breuning, THE ART FREAKS (PART 3), 2011.