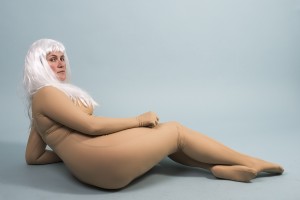 Susi Krautgartner, #86 of 109 self-portrait after Jean Auguste Dominique Ingres and Pablo Picasso and Robert Rauschenberg and Martial Raysse and Tano Festa and Ruytchi Souzouki and Orlan and Mel Ramos and Erró and Guerilla Girls and Stéphane Lallemand and Julie Ann Isabel and Samaras Laurie and Simon Koya and Abe Stéphane and Lallemand Lalla and Essayd Koya and Abe Karen and Audette & Diane Gilson and Jean-Luc Moerman and Andrei Sharov, 2015.
After: Matthias Herrmann, WHICH PART OF NO, 1999.
After: Jean Auguste Dominique Ingres, Grande Odalisque, 1814.
After: Pablo Picasso, La Grande Odalisque d'après Ingres, 1907.
After: Robert Rauschenberg, Odalisk, 1955-1958.
After: Martial Raysse, Made in Japan, La Grande odalisque, 1964.
After: Tano Festa, Odalisca, 1967.
After: Ruytchi Souzouki, Anatomie et la beaute, 1967.
After: Orlan, La Grande Odalisque, 1968.
After: Mel Ramos, Plenti Grand Odalisque, 1973.
After: Erró, After Ingres, 1975
After: Guerilla Girls, Do women have to be naked to Get into the Met. Museum?, 1989 – 2011.
After: Stéphane Lallemand, Télécran de La Grande Odalisque, 1989.
After: Julie Ann, Odalisque after Ingres, 1996.
After: Isabel Samaras, Wish, 2003.
After: Laurie Simon, The Long House (Red Bathroom), 2004.
After: Koya Abe, After La Grande Odalisque, 2005
After: Stéphane Lallemand, La Grande Odalisque, 2007.
After: Lalla Essayd, Grande Odalisque, 2008.
After: Koya Abe, After the Grande Odalisque, Digital Art, Chapter 5, Analogies, 2008.
After: Karen Audette & Diane Gilson, Ingre's Odalisque.
After: Jean-Luc Moerman, Epiphytes, 2012.
After: Andrei Sharov, Pink Nude, 2014.