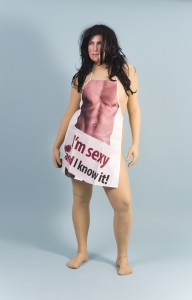 Susi Krautgartner, #79 of 109 self-portrait after Michelangelo Buonarroti and Les Levine and Serkan Ozkaya and Miguel Angel Rojas and Bert Rodriguez and Blek le rat and Hans-Peter Feldmann, 2015.
After: Michelangelo Buonarroti, David, 1501, 1504.
After: Les Levine, Consume of Perish, 1989.
After: Serkan Ozkaya, David, 2005.
After: Miguel Angel Rojas, David #1, 2005.
After: Bert Rodriguez, Self Portrait (Sinister David), 2007.
After: Blek le rat, David With Kalashnikov, 2007.
After: Hans-Peter Feldmann, David, 2008.