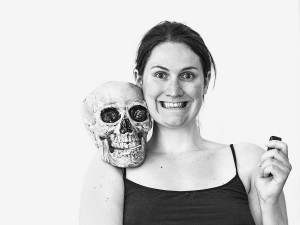 Susi Krautgartner, #58 of 109 self-portrait after Andy Warhol and Sarah Lucas and Marina Abramovic and Damien Hirst and Stephen Gregory, 2015.
After: Andy Warhol, Self Portrait with Skulls, 1977.
Sarah Lucas, Self Portrait with Skull, 1997.
Marina Abramovic, Self portrait with skull, 2005.
Damien Hirst, For The Love Of God, 2007.
Stephen Gregory, Midnight Rambler, 2008.