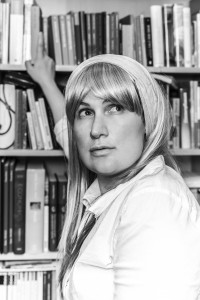 Susi Krautgartner, #55 of 109 self-portrait after Cindy Sherman and Duane Michals and Aneta Grzeszykowska and James Franco, 2015.
After: Cindy Sherman, Untitled Film Still #13, 1978.
After: Duane Michals, Who is Sidney Sherman, 2000.
After: Aneta Grzeszykowska, Untitled Film Stills, #13, 2006.
After: James Franco, New Film Still #13, 2013.