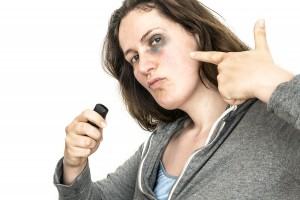 Susi Krautgartner, #99 of 109 self-portrait after Nan Goldin and Roe Ethridge and Kota Ezawa and Bridge Lucey, 2015.
After: Nan Goldin, Nan one month after being battered, 1984.
Roe Ethridge, Untitled (Self-portrait), 2000-2002.
Kota Ezawa, Photography Remix – After Nan Goldin, 2005.
Bridge Lucey, If I was an Artist, This is What I Would Look Like, 2009.